The Matterhorn Gotthard Railway between Disentis and Andermatt.
The 'Loetschberg' steamship is the flagship of the fleet on Lake Brienz in the Bernese Oberland.
ALLEGRA railcar on the Landwasser Viaduct, near Filisur.
Swiss Travel System: Voyages en train à prix avantageux
Ce populaire billet de train permet de pouvoir utiliser de manière illimitée le réseau ferroviaire, routier et navigable du Swiss Travel System pour une durée de 3, 4, 8 et 15 jours. Swiss Travel Pass vous donne un accès gratuit à plus de 480 musées et expositions.
En choisissant le Swiss Travel Pass Flex, vous choisissez librement vos jours de voyage. Pendant une période d'un mois, vous empruntez en toute liberté le réseau du Swiss Travel System durant 3, 4 , 8 ou 15 jours.
Avec la Swiss Half Fare Card (abonnement demi-tarif), voyagez à moitié prix dans toute la Suisse. La Swiss Half Fare Card vous permet de bénéficier de 50 % de réduction sur vos trajets en train, en car, en bateau, et sur certains téléphériques.
Découvrirez les différentes facettes de la Suisse et bénéficierez d'une offre " 2 pour 1 " avec d'intéressants rabais dans 11 destinations différentes.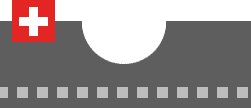 Le "Swiss Pass" s'appelle désormais le "Swiss Travel Pass".
Notre boutique vous permet de profiter des avantages suivants :
Réserver en toute sécurité
Confirmation immédiate
Aucun frais de réservation ou de carte de crédit
En exclusivité dans cette boutique:
De nombreux articles sont disponibles comme "billet électronique" et peuvent être imprimés à la maison. Les billets électroniques seront envoyés séparément.
Obtenez encore plus d'avantages:
N'oubliez pas d'ajouter le nouveau passe-coupon suisse à votre commande.