Regional Passes Switzerland
Train, bus, boat and much more
Regional Passes in Switzerland
Swiss Railways is one of the best state-owned railroad companies in the world. In addition to the enormous punctuality and outstanding safety, it is also offers like the regional passes that make the Swiss Travel System so attractive.
Not everyone has enough time to see all of Switzerland's diversity. Some are drawn to the Bernese Oberland, while others want to explore Central Switzerland. Each region has its charm and offers numerous sights and excursions.
With a regional pass, you have the ideal ticket in hand to explore a particular region.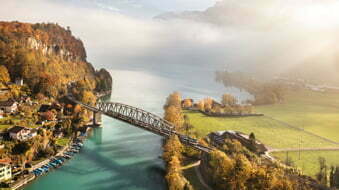 Regional-Pass Bernese Oberland
Discover the most beautiful valleys, mountains and lakes in the Bernese Oberland – and all with just one ticket!
Tell-Pass - Central Switzerland
The Tell Pass allows you to explore all of central Switzerland by train, bus, boat or mountain railway on 2, 3, 4, 5 or 10 days.